The Bureau of Labor Statistics reports that the Healthcare industry employs more than 15,000,000 workers. Since just about every aspect of the industry relies on information technology, it's clear that there are lots of reasons to get into Healthcare IT. We have a high level of job security, a sense of satisfaction, and endless opportunities to further our skills. Still, a big part of the appeal comes down to the money. Healthcare IT salaries are also on the rise, outpacing many other sectors. This health information technology salary report lists salaries for several key positions in the industry using a variety of reliable sources. Also, check out the end of the post to see how your region compares with others in the U.S.
Healthcare IT Project Manager Salary
Healthcare related Project Managers provider project expertise and oversight for software and other clinically related projects for Healthcare organizations or vendors. They typically coordinate with clinical and non-clinical staff and management to define tasks and timelines for Health IT projects of medium to large complexity. Salaries range from $80,000 to $120,000; with the average pay being around $104,000.
Healthcare IT Manager Salary
Managers of Healthcare IT staff provide direct oversight of the staff who report to them, and don't typically perform process-related or technical functions. In a medium to large sized hospital, a manager may have from between 10 to 30 people reporting to them. The average pay for Healthcare IT managers is about $111,000.
Clinical Analyst Salary
A Clinical Applications Analyst supports and implements specific software for Healthcare organizations or vendors. Much of what they do is to gather user requirements from clinicians, which in turn are used to configure software systems. They also perform testing, troubleshooting, and maintenance of these systems, and work closely with clinical managers, other IT staff, and project managers. Clinical Applications Analysts earn an average salary of about $89,000.
Clinical Educator Salary
Clinical Educators develop curriculum and train classes for end users of clinical software products. They usually take suggestions from class attendees back to the clinical analysts to optimize the software. In some cases, they also participate in testing. They earn an average salary of around $79,000.
Nursing Informatics Salary
A Nursing Informatics Specialist is a licensed RN who has taken on a technical role to be a liaison between nursing staff and Information Technology staff. They participate in setting policy and workflow analysis for Healthcare organizations. Their average salary is around $101,000.
Database Administrator Salary
A Database Administrator in the Healthcare sector implements and maintains clinical and operational databases for systems that usually include enterprise wide systems. A DBA in the Healthcare field can earn from $80,000 to over $100,000.
Healthcare Business Analyst Salary
A Healthcare Business Analyst works to improve business related processes and functions. Of all the positions listed in this post, the Business Analyst is focused less on the technology than the others. I mention the position because it can still have significant interaction with Information Technology staff, even though they are not likely to be on the IT department's payroll. Their average salary is around $82,000.
Healthcare IT Director Salary
A Director in a Healthcare organization provides a level of management between first line managers and the Chief Information Officer (CIO). A Director position averages around $137,000.
Healthcare CIO Salary
The Chief Information Officer in a Healthcare organization is the "top dog", with everyone in the department reporting directly or indirectly to them. The Healthcare CIO may earn from $200,000; but if they are in a very large or high profile Healthcare system, they could earn much more.
Healthcare IT Salary By Region
As with any job, Healthcare IT salaries vary by region of the country. Here is a breakdown of the overall pay for all Healthcare IT workers by region. I should point out that the Pacific region includes AK, HI, WA, OR, and CA. As you can imagine, CA and HI are the most expensive economies, so they drive up the numbers.
| | |
| --- | --- |
| Pacific | $127,117 |
| Mid Atlantic | $121,178 |
| South Atlantic | $116,388 |
| New England | $113,493 |
| Mountain | $109,959 |
| East South Central | $107,966 |
| East North Central | $103,109 |
| West North Central | $102,522 |
| West South Central | $101,281 |
The truly unfortunate news in this story is the statistic from HIMSS that women make 79.8% of what men do for the same jobs. The average female salary calculated for all Healthcare IT positions is $100,762, while the average for men is $126,262.
Sources: HIMSS Salary Survey, Payscle.com Healthcare IT Salaries, Bureau Of Labor Statistics Healthcare Numbers
---
Summary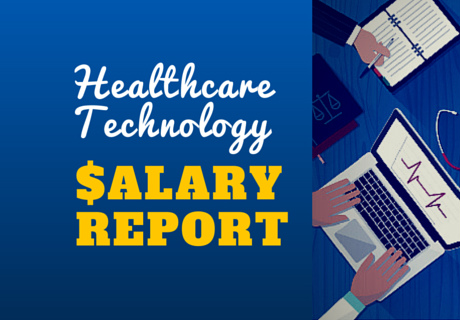 Article Name
Healthcare IT Salary Report
Description
Do you know much can you really make working in Healthcare IT? Find out here with recent data from this health information technology salary report. We'll look at salaries for project managers, applications analysts, clinical trainers, and cover different parts of the country.
Author
HealthcareITSkills.com
https://healthcareitskills.com/wp-content/uploads/2017/12/cropped-healthit-green-logo-1.png