What you know is only as good as your ability to communicate it, and nowhere does this ring more true than in your healthcare IT résumé. This document should be able to effectively describe your healthcare IT background, knowledge, and expertise — meaning that it should be comprehensive without being too long for a hiring manager to read.
It is important to remember that the global healthcare IT market is set to hit $280 billion by 2021, a growth that Healthcare Innovation pegs at an impressive 15.9%. This development will mean even more jobs and opportunities will come available, but it also means there will be a greater interest in the healthcare IT industry, and even more competition for jobs and career growth. So how exactly can you make your résumé stand out from the other applicants? Here are some key considerations:
A well-written professional summary
A good healthcare IT professional's résumé should be, at most, six pages long. And to open things up, you need to write a good summary that lets the reader know the most important details about you right at the start. A good professional summary should be a short paragraph, typically two to three sentences long, that indicates your professional accomplishments so far and what you hope to achieve in your career. In other words, it must provide a good synopsis of your past educational and professional achievements, as well as your aspirations for the future.
When crafting you professional summary, be sure to review the job posting you are applying for. Ask yourself what the qualities, credentials, and details your prospective employer would most like to know about you, so that you can tailor this portion of your résumé to address it. Are they looking for someone to lead electronic health record (EHR) system implementations across different departments, or perhaps someone with similar certifications as you who can help with expanding their quality improvement processes?
The right healthcare IT certifications
Next, be sure to list the certifications you have that are relevant or related to the position you are applying for. It goes without saying, that this section should be extremely accurate. Do note, however, that certain types of certifications are more in demand than others given today's climate, so you might want to consider studying for and applying for them if you can. These include the HCISPP (Healthcare Information Security and Privacy Practitioner) and CISSP (Certified Information Systems Security Professionals), and Amazon Web Services Certification. If you also have any vendor-specific certifications under your belt, list them down here, too.
Concise healthcare IT academic credentials
Immediately after your certifications, list down your academic credentials related to healthcare IT, starting with the degree you most recently earned. Include the school from which you earned your degree as well as any distinctions or affiliations you had while completing it.
By doing this, you'll not only show a hiring manager that they can verify your education with the school's records office, they will also get to know more about the quality of your academic training. The reason for this is that hiring managers often look up schools to see whether they are accredited or not. In a guide to college accreditation by Maryville University, it explains that schools can earn regional, national, or program-specific accreditations, which can assure hiring managers about the quality of the education provided. If your healthcare IT-related degree program is accredited then this could help you stand out from the crowd.
Crystal clear results in work experience
It is common for applicants to list down their previous work experiences in their résumés. But to make sure that yours stands out, be sure to give the hiring manager a clear idea of your accomplishments by listing down what you've done under each position. Use action words like, "developed," "delivered," "implemented," to illustrate the results you achieved. If you can, quantify these with percentages or amounts.
Balanced professional affiliations
Next, list down the different professional affiliations you might have with groups like the American Health Information Management Association (AHIMA) or the Healthcare Information Management and Systems Society (HIMSS). These will demonstrate to the hiring manager how involved you are in your field, as well as how dedicated you are to continue learning from others.
The right keywords for healthcare IT
Nowadays, hiring managers and human resources often use electronic screening tools to sift through dozens of applications at a time. To give your résumé a better chance of getting noticed, The Balance recommends thinking about important keywords that they might look for when going through applicants for a position, and use those throughout your work. Think about buzzwords often used in your area of expertise, as well as any relevant certifications. If you don't happen to have those certifications, however, you can choose to include it by saying that you are eligible for it. So if you think a CHDA (Certified Health Data Analyst) is perfect for the job but you have not taken the exam for it yet, you can compromise by noting that you are "CHDA eligible."
Edit, edit, edit
The importance of proofreading and editing cannot be overstated, as a résumé with any typographical or grammatical errors will stand out for all the wrong reasons. These types of mistakes also have the power to overturn whatever impressive qualifications you do have, so be sure to go over your work at least three times before sending it over.
---

Eloise Scott is a Charlotte-based software consultant with a passion for helping healthcare professionals and IT teams help others. When she's not working, Eloise enjoys jazz music and photography.
---
Next Up: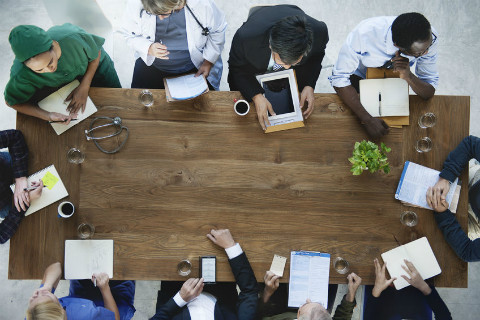 With the ever-increasing presence of social media in our lives, it's easy to want to separate it from our professional efforts. You don't have to go overboard, but don't underestimate the value of social media in your job ...
Read More
Summary
Article Name
Make Your Resume Stand Out For Healthcare IT Jobs | Healthcare IT Resume Tips
Description
Learn how to make your resume stand out to hiring managers in Healthcare Information Technology. Tips to succeed and mistakes to avoid with your healthcare IT resume.
Author
HealthcareITSkills.com
https://healthcareitskills.com/wp-content/uploads/2017/12/cropped-healthit-green-logo-1.png