Within the overall Information Technology industry, healthcare is the largest and fastest growing segment. According to a Brookings Institute study, the healthcare sector at large has grown 10 times faster than the overall economy. With that growth comes the need for those with the technical and healthcare related skills needed to implement and support a myriad of systems. Getting started in healthcare IT is a matter of first understanding how the industry is structured, then taking steps to build the skills you need to succeed. I have worked in the healthcare IT industry since 1995, and can tell you more about my story on my About page. My passion is to help you get started on a Healthcare IT career path. Let's start with some facts about the industry:
There are about 5,700 hospitals in the US. Historically, healthcare institutions had been way behind other industries in advancing technology. That has all changed.

In 2009, Congress passed and the President signed the Health Information Technology for Economic and Clinical Health (HITECH) Act, which provided modest incentives to healthcare providers to drive them toward adopting Electronic Medical Records (EMRs).

As of 2019, 86% of US physicians used an electronic health record (EHR) system, up from 18% in 2001 and 78% in 2013.

Healthcare systems are becoming more and more connected with each other, with pharmacies, and of course with patients, as web-based and mobile-connected applications continue to mature.
Look at how Healthcare IT continues to grow, even through recession: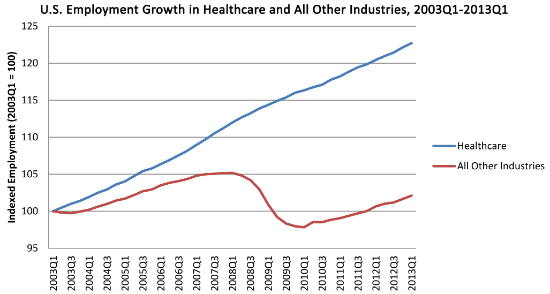 Benefits of Health Information Technology
Most of us are familiar with the paper charts that used to be common at a hospital's nursing station. The charts were carried around and handed off between nurses, doctors, and other caregivers as they took care of patients. There are countless inefficiencies in this method that simply could not continue.  For example, there was no easy way for say, a specialist outside the hospital to quickly review labs to then know what procedure or test to order. Also, there is the risk that a reaction to a medication might not be caught. Then you can add a multitude of complexities that come with other hospital departments such as the Lab, critical care units,  Endoscopy, and others. All of those departments need to coordinate with each other to provide the best care to patients in the hospital, and also communicate with the patient's primary care physician (PCP) after the patient goes home. It becomes pretty easy to see the benefits of health information technology:
Efficient process of charting clinical data and placing orders
Information sharing among hospital departments as well as outside entities such as labs
Improved communication with patient through online portals
Data analysis that can assist with diagnosing and recommending better treatments
JOBS! All of this takes technology staff at all skill levels to keep the systems running
Much of what needs to be accomplished is done through electronic medical record systems (EMRs). These systems connect with many other software, hardware, and medical device technologies in an effort to provide an interconnected enterprise system that improves patient care. Many of the posts here will educate you on the technical and process-related aspects of health information technology. Healthcare IT also comes with an alphabet soup of acronyms, buzz-words, and abbreviations. If you'd like to provide your name and email address for occasional updates, you will get a download of 100 top Healthcare IT terms.
Complete to get download.
What Skills Do I Need For Healthcare IT?
For those who want to get started in Healthcare IT, one of the first questions that comes up is "Do I need some kind of medical training to succeed and move forward"?  The answer is Yes, No, and It Depends. In Healthcare IT, there are lots of opportunities for various skill sets and experience levels. A good way to look at this is an understanding of three specific skill sets, anchored by the interpersonal skills needed just to get through life: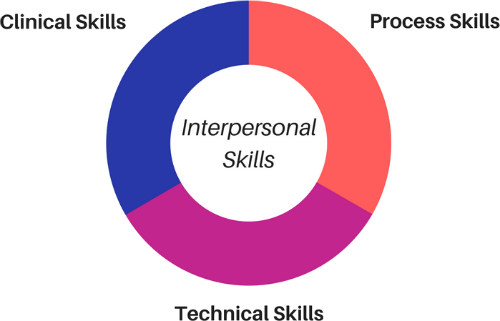 Regardless of what healthcare IT job you are wanting, you will need all of these skills to some degree. A project manager will of course be very strong in the process skills area, but will still need to have some understanding of clinical and technical terminologies.
A clinical trainer might not be extremely technical, but they will still need to be able to know how to configure and navigate clinical software systems.
A systems administrator may not need to know the 10 knowledge areas of project management, but they do need to understand the phases of a project.
Where Are Healthcare IT Jobs?
Considering that technology touches just about every area of healthcare, it's clear that there are job opportunities at your local hospital or other clinical setting, or with a technology vendor. Here is a rundown of several job categories, along with expected technical and clinical skills requirements: 
Job Position/ Description

Technical Skills Req?

Clinical Skills Required?

Help Desk Technician: takes calls from users in clinics or hospitals to help with basic PC, printer, and application functions.

Medium

Helpful, but not required. Consider getting A+ certification and a Medical Terminology class to get in the door.

Application Analyst: implements and supports one or more specific software packages for a vendor or a clinical IT dept.

Med-High

Hard to get started without at least some clinical knowledge. Don't need to be an RN, but Lab and Pharmacy Technicians with basic computer skills have a better shot than highly skilled 'techies' with no clinical background. Starting as a Help Desk Tech can prepare you for this position.

Project Manager: provides oversight of one or more projects, assuming responsibility for on-time and on-budget completion. Juggles many competing priorities.

Medium

No medical skills required. Project Managers typically pick this up on the job. Either a college degree, Project Manager certification, or extensive experience leading projects is required. You probably could move into a PM role after some time as an Application Analyst.

Desktop Support Tech: supports users with PCs, printers, and other devices.

High

No medical knowledge required. Need to be comfortable working with all kinds of PCs, printers, and other equipment. A+ certification or demonstrated skills required.

Systems Engineer: implements and supports networks, servers, and the most complicated parts of a technical infrastructure.

Very High

No medical knowledge required. Advanced technical knowledge required.

Instructional Designer:
develops training materials and delivers training sessions in class, on location, and online.

Medium

Helpful, but not required. Teaching and curriculum development skills usually required.

Database Administrator:
Develops and maintains databases for the Healthcare enterprise.

Very High

Helpful, but not required. Advanced understanding of databases and data structure required.
Hospital IT Vendors
The next obvious place to look for Healthcare IT employment would be with the companies that provide Healthcare software, hardware, services, and medical devices. This post covers the top suppliers of electronic health records (EHR) systems.
Here is where we will explore the top EHR vendors, focusing on those who specialize in either enterprise wide systems, or electronic health records for physician practice offices. Since one of the goals of this site is to help people who are starting in healthcare IT, I've tried to find ...
Read More
---
Summary
Article Name
Healthcare IT Career Path
Description
Getting Started in Healthcare IT. Gain skills here to help you understand the Health IT industry and start a Healthcare IT career path.
Author
HealthcareITSkills.com
https://healthcareitskills.com/wp-content/uploads/2017/12/cropped-healthit-green-logo-1.png