Real time eligibility (RTE), aka patient eligibility verification is a technology solution that allows medical staff to electronically verify patients' insurance coverage for medical treatment. Before the age of electronic health records and RTE, patients would provide their information either at or before a medical visit. The font desk staff would then contact the insurance provider by phone or fax to verify coverage. RTE options now allow staff to check for eligibility in real time from Medicare, Medicaid, Blue Cross, and many other insurance carriers.
There are two main ways for staff to perform real time eligibility verification:
Online Insurance Verification Portals
For medical offices that do not have EHRs, or choose to do their eligibility checking outside of their EHR, there are many vendors who provide eligibility checking through online portals. This technology functions as a clearinghouse for multiple insurance carriers. The medical clinics usually incur a transaction fee for every time they check a patient's eligibility. They need to enter the patient name and date of birth, the subscriber ID, and possibly some other information such as the provider's national provider identifier (NPI). The portal will then return a confirmation of benefits which includes the effective date, co-pays, and any limitations. This method has the drawback of not being entered into other electronic systems, so the staff may print or otherwise save copies of the transaction outside of the clinical system of record.
Some of the top patient eligibility providers are Availity, pVerify, Experian, and CMS.gov. Also, all of the major insurance carriers have their own eligibility verification systems for their own plans.
EHR Integration For RTE
Because most medical providers are now on electronic records, insurance eligibility checking can be done directly from those systems. All of the major EHR systems have integration that automatically sends  transactions to insurance carriers directly from the patient's chart through interfaces. An API provides the programming to link the EHR data to multiple insurance carriers. Clinical or administrative users will click on a button labeled something like "Check Eligibility". The EHR will then send the patient's demographic and plan data to the carrier, which will return results in usually less than a minute. That data will now be part of the patient's chart.
The electronic transactions are usually formatted using XML or X12 communication protocols.
Eligibility messages are identified as EDI 270 & 271 messages. The outgoing request from the clinical setting to the clearinghouse or insurance carrier is the Eligibility and Benefit Inquiry (270) transaction. The response message that sends the completed eligibility information back to the clinical setting is the Eligibility and Benefit Response (271) transaction.
Eligibility Verification From EHR
Eligibility Response to EHR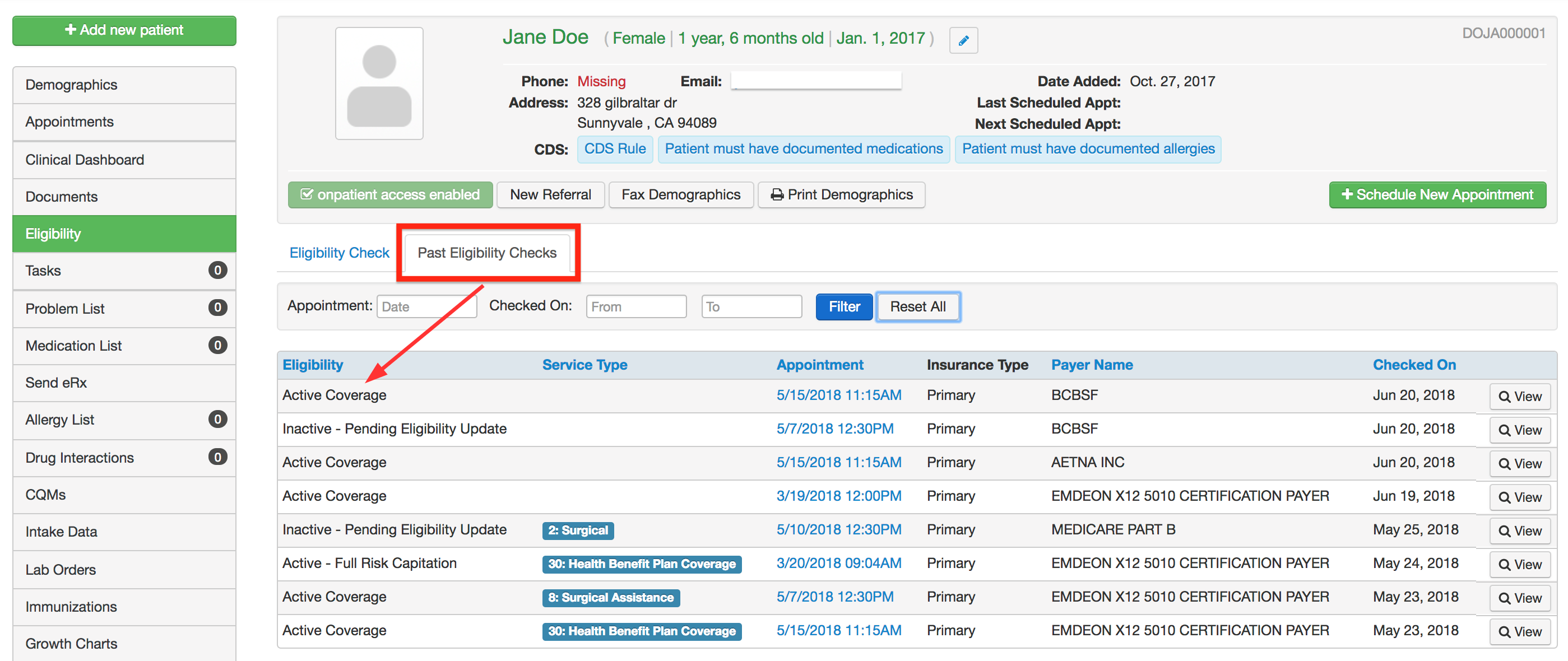 Benefits Of Real Time Eligibility
Electronic eligibility checking helps providers, nurses, and administrative staff in several measurable ways:
Staff who previously had to rely on phone or fax communications can now receive results from RTE queries in less than a minute in most cases

Data from carriers is integrated within the EHR system, eliminating the need to work in multiple systems
Decreases the denial rate for reimbursement
EHR integrated eligibility checking reduces transaction fees paid to RTE clearinghouses. An example is from Wellmont Health System, who was able to increase their point-of-care collections by 14% using RTE integrated through Epic
Patient satisfaction is increased as accurate coverage information reduces negative billing surprises
RTE provides an audit trail of coverage checking, providing evidence of coverage.
Next Up:

Ever since the early days of Health Information Technology, industry experts and observers have discussed the potential of using technology to improve patient care, reduce costs, share information, and increase patient satisfaction. Has Healthcare IT succeeded in these goals? ...
Read More
Summary
Article Name
What Is Real Time Eligibility / Patient Eligibility Verification?
Description
What is real time eligibility (RTE) or electronic patient eligibility verification? Here is a quick description of the technology and process of RTE in a clinical setting.
Author
HealthcareITSkills.com
https://healthcareitskills.com/wp-content/uploads/2017/12/cropped-healthit-green-logo-1.png