Here is where we will explore the top EHR vendors, focusing on those who specialize in either enterprise wide systems, or electronic health records for physician practice offices. Since one of the goals of this site is to help people who are starting in healthcare IT, I've tried to find out if the vendors have intern or apprenticeship programs.
There are many more vendors in specialty areas, such as lab, pharmacy, materials management, consulting, and medical devices. Those will be covered in other articles.
Allscripts
Allscripts is a publicly traded provider of practice management, EHR and financial management systems for small to medium sized hospitals and physician practices. Allscripts products cover most areas of clinical care, including emergency department, surgery, anesthesia, population health, and more.
Allscripts Sunrise is their product line offered for large organizations as well as Ambulatory practices. The Paragon product is aimed at smaller health networks and community clinics.
They have a history of acquiring and merging with other vendors, such as Misys and Eclipsys, and more recently Practice Fusion. Their products are generally rated highly by the user community. The company suffered under a stormy internal struggle between the Chairman and some directors in 2012.
They have operations mainly around the Eastern part of the US, but also have some offices internationally, and they do outsource some of their development and support. They have a beginner/internship program, and could be considered a good place to start a career.
2020 revenue: $1.5 Billion
allscripts.com
athenahealth
athenahealth is a relative newcomer to the Healthcare IT space, and are publicly traded. Founded in 1997, athenahealth was started by Johnathan Bush (cousin of former President George W. Bush) and Todd Park, former Chief Technology Officer for the US Federal Government. They started in San Diego as a women's health and birthing center. Founders Bush and Park saw great success with clinical outcomes, but were forced to close the clinic due to high costs. They then used this experience to launch a technology company. They later moved operations to Watertown, MA.
athenahealth is focused on cloud-based solutions. athenaClinicals and athenaOne are their offerings for Ambulatory practices and larger Healthcare systems. They focus on working with their clients to proactively analyze numerous data points from the software to resolve or prevent issues in billing, physician compliance, and regulatory compliance. They are particularly focused on helping organizations to reduce their accounts receivable days and understand costs associated with procedures and therapies.
They also promote their open-source effort called More Disruption Please, which pushes a partnership with developers to use application programming interfaces to build connections between their products and external technology systems.
Brainiac: Co-founder Todd Park was recently ranked #5 on the Forbes list of top data scientists.
In June 2018, Johnathan Bush stepped down due to fallout from personal conduct issues, and in November 2018, they were acquired by Private-equity firm Veritas Capital and hedge fund Elliott Management for about $5.7 billion.
In February 2022, athenahealth was again sold off, this time to Hellman & Friedman and Bain Capital for $17 billion.
They usually have a number of open positions, but the positions appear to be for those with existing experience in technical, project management, and user experience areas. I don't find an intern program on their site.
2019 revenue: $5.7 Billion
athenahealth.com
CareCloud
CareCloud is a publicly traded provider of cloud-based clinical solutions for clinical documentation, revenue cycle management, practice management, analytics, and interoperability. They claim 40,000 providers use their platforms across large and small organizations. They were founded in 1999, have about 3,500 employees, and are based in Miami, Florida. In August 2021, they added consulting services to their offerings.
2020 Revenue: $105 million
carecloud.com
Cerner Corporation
Cerner is publicly traded, and is the largest or second largest Health IT vendor, depending on how you spin the numbers (revenues vs number of users and other measures). They produce enterprise wide clinical applications for almost all areas in Healthcare- hospital, clinics, Lab, Primary Care, etc. Cerner was founded in 1979 by Neal Patterson, considered to be a great visionary by many in Healthcare IT circles. He led the company until shortly before his death from cancer in 2017. Patterson was replaced by Brent Shafer in early 2018.
Unlike some other Health IT companies, Cerner built most of its products on a single unified platform. The platform matured into the Cerner Millennium offering in 1997, and has continued to evolve and gain market share in the US and all over the world.
Their products get mixed reviews in the user community, and they have had a few high-profile implementation failures that resulted in lawsuits from hospital organizations who claimed that their products potentially harmed patient care.
In 2014, they announced an acquisition of Siemens Health Systems for $1.3 Billion.
In 2015, they won a $4.3 Billion contract with the Department of Defense to implement a system-wide health records system, and then won a $10 Billion bid for the VA in 2017. Their implementation partner is Leidos, the huge technology services contractor with lots of experience in Federal contracting. As of 2021, several pilot implementation locations have launched with notable controversy, citing usability, training, and other issues.
The Pizza Email: In 2001, CEO Neal Patterson sent a harsh email to managers, complaining about a perceived lack of work ethic at Cerner. Among other things, he mentioned that he wanted to see pizza delivery cars in the parking lot at 7:30 pm to feed the starving teams, staying late. The email went public, sending the stock price down 22% in three days.
Based in Kansas City, MO, with many international operations; they have opportunities for interns, beginners, and seasoned professionals. They have a reputation for demanding much from their staff.
In December 2021, Oracle announced that they would acquire Cerner for about $28 billion.
2020 Revenue: $5.5 Billion
cerner.com
DrChrono
DrChrono is a web and cloud based EHR solution for practices of all sizes and various specialties. Based in Sunnyvale, California, DrChrono was started in 2009. They focus on improving workflows and decreasing administrative tasks in practices. In 2020, they raised $20 million in growth capital from ORIX Growth Capital.
2018 Revenue: $23 Million
drchrono.com
eClinicalWorks
Founded in 1999, eClinicalWorks is a privately held provider of EHR, billing, and population health software mostly for outpatient Ambulatory settings, focused on a cloud-based platform. In March 2018 they launched an EHR offering for acute care hospitals. They are based in Westborough, MA, with some operations in several other states.
In 2005, eClinicalWorks got a big boost when the New York city government spent $19 million to implement their EHR for providers who serve the poorest areas of the city.
They have recently been hit with several large lawsuits, one being an accusation that they falsified data in the software that is used for US Federal certifications.
eClinicalWorks is based in Westborough, MA and has offices in California, Georgia, New York, and Illinois. Being a smaller company, they don't have numerous job openings. I wasn't able to find an intern program on their website. Due to their ongoing legal problems, I don't believe they are a good career choice at this time.
2020 revenue: $646 Million
eclinicalworks.com
Epic Systems
At one time considered the underdog in healthcare IT, Epic has rocketed to the top of the class in enterprise clinical, revenue, and population health software. They were founded in 1979 by Judy Faulkner. They have lower revenues than Cerner, but have managed to get their systems into many of the largest and most prominent healthcare systems in the US, such as Johns Hopkins, Mayo, UCSF, UCLA, and University of Washington. Admiration of Epic is due to several unique characteristics: Epic is privately held, does not acquire other companies, does much less marketing than their peers, and puts a huge portion of profits back into product development. They have a reputation of responding to clients and quickly fixing problems. Their user community is highly vested and motivated to the point that Epic is labeled with cult-like references. Like Cerner, they develop products for just about every area of clinic and hospital areas based on a single platform.
Over the top: Epic's campus in Verona, WI covers over 1,000 acres and has many upscale theme-based buildings, and tons of quirky art and sculptures from local artists.
Epic typically hires new college graduates with high GPAs, not placing emphasis on previous healthcare experience. You cannot get hired with Epic without a 4 year degree. Almost all workers are required to work at their Verona, WI headquarters. They do not have a reseller program, so if you don't hire with them, your best chance to work with the product is to get hired at a hospital who has or is planning to implement Epic. There are also many consulting groups of all sizes who contract with Healthcare clients to help with implementations.
2020 Revenue: $3.3 Billion
epic.com
More on Epic: Epic Systems Modules
GE Healthcare
A division of the giant industry conglomerate, GEHC has many different products for most areas of healthcare. GE has a long history with MRI, X-Ray, Ultrasound, and other Radiology related equipment and software. In the Healthcare IT space, they have a serious disadvantage over Epic and Cerner. When GE decides to go into a healthcare sector, they typically just buy out another vendor instead of developing their own product. That has left them with a rat's nest of systems that look and operate differently, and run on different platforms. They are struggling in the Health IT marketplace in most areas except for imaging, and in March 2018 they sold off many of their Healthcare related offerings to Veritas Holdings.
Rich got Berned: One of GE Healthcare's major acquisitions was IDX Systems of Burlington, VT in 2004. In 2006, former IDX Chairman Rich Tarrant ran for the Senate against Bernie Sanders. He lost badly.
They have operations in multiple locations, and usually have many open positions. Their website does list an intern program.
2020 revenue: $18 Billion
gehealthcare.com
Greenway Health
Greenway is a privately-held provider of clinical solutions for practice management, clinical documentation, and revenue cycle management. They are a bit of a mash-up of several other firms that had been around for some time: Medical Manager, Vitera, and SuccessEHS. They have products for several specialties, including urgent care and dental records.
In April 2017, Greenway was hit with a ransomware attack that affected about 5% of their client base. It took them a few weeks to fully recover from the incident.
Greenway has locations across the Midwest and South. They have a good number of positions listed in several job functions. I did not find an intern program on their site.
2017 Revenue: $350 Million
greenwayhealth.com
Kareo
Kareo is a cloud-based EHR, practice management, and revenue cycle provider for small healthcare practices. They are privately held, located in Irvine, California. In 2013, they acquired billing company ECCO Health.
2015 Revenue: $56 Million
kareo.com
McKesson
McKesson is a publicly traded provider of enterprise software for most areas of Healthcare. McKesson makes much of their profit from the medical supply and drug distribution space. Unlike Cerner and Epic, many of their software products were bought instead of built. One of their major acquisitions was IT firm HBOC in 1999. They subsequently got busted by the SEC for cooking the books on that deal.
Two of their main IT product lines are Paragon and Horizon for Inpatient and Ambulatory practices. Many of their IT products get low ratings from customers and ratings agencies.
McKesson was founded in 1833 as a drug and chemicals supplier; long before any technology industry existed.
They typically have lots of positions open in many locations. Their website does indicate an intern program.
2020 revenue: $231.1 Billion (entire company, not just IT services)
mckesson.com
Meditech
MEDITECH is a privately held IT vendor who covers many areas of hospital and clinic operations. They traditionally target small to medium-sized hospitals (under 100 beds up to 200 beds). They have since lost some share to Epic and Cerner, as those vendors find ways to enter the lower cost market.
Their latest offering is a cloud-based EHR called Expanse. It claims to focus on the entire continuum of care, with a focus on patient engagement.
They have offices in MA, GA, and MN, usually listing several openings in each location. Their website lists an intern program for staff members' immediate family. They push to hire externally for entry-level positions, then promote from within.
2019 revenue: $493.8 Million
meditech.com
More on MEDITECH: Company profile with product listing
NextGen (Quality Systems, Inc.)
NextGen is a publicly traded Health IT vendor founded in 1978 as Quality Systems, Inc. They have gone through many merges and acquisitions, the major ones being with Micromed, Opus, and HealthFusion. NextGen has built much of their business in the Ambulatory and specialty markets, but now also have an enterprise solution for large Healthcare organizations. Their products serve clinical documentation, practice management, quality measures, and patient engagement via a patient portal. They also have a Health Information Exchange, They are based in Horsham, PA and have operations in CA and MO.
In addition to their PA office, they have operations in California and Missouri.
I was not able to find an intern program on their website.
2020 revenue: $557 Million
nextgen.com
Practice Fusion
Practice Fusion is a cloud-based EHR which was started in 2005 with a unique business model. They made the product free to sign up for, although they would charge for some implementation services and add-ons such as interfaces. The way they generated revenue was through ads to the providers using the system, and by reselling clinical statistical data from their customers. What?! Yes, they were allowed to sell patient data for things like which medications are prescribed for various conditions. The key is that the data had all personally identifiable data stripped out.
That model came to an end when they were acquired by Allscripts in early 2018. The free use of their system ended on May 31, 2018, when all providers had to sign up for a paid subscription. So far, Allscripts hasn't moved operations for Practice Fusion.
In early 2020, a government investigation revealed that Practice Fusion had cut a deal with an opioid maker to configure their software to suggest opioid prescriptions in the EHR when physicians noted pain in their patients.
Top EHR Vendors Market Share
Looking at EHR market share is tricky by nature. There are a lot of different ways to spin the numbers, and each vendor will look for the statistics that paint the best picture for them. Some of the measures of market share are:
Number of providers using a system
Revenues
Ambulatory vs Inpatient usage
Number of providers who have attested for meaningful use
Implementation in small, medium, or large hospitals
With that, here is a graphic that shows the recent market share for EHR implementations in the Inpatient hospital market in the United States: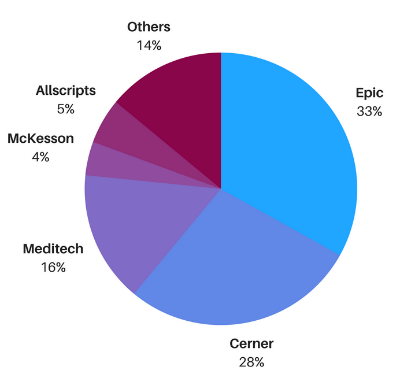 ---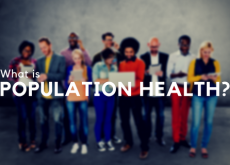 A few years ago, I worked with a team to implement a metrics-based population health program for our Care Managers. We built a program that collected advanced clinical data on various segments of the patient population to better manage their ...
Read More
Summary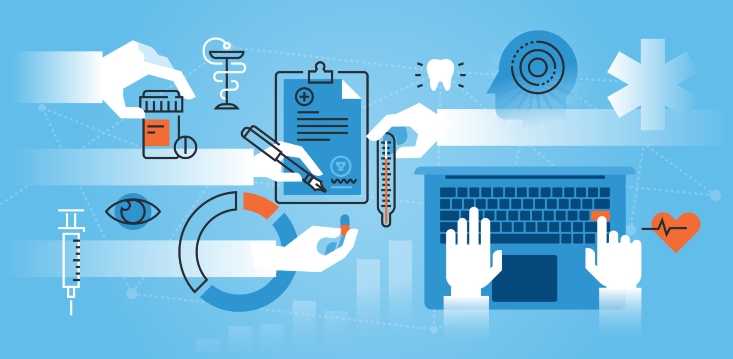 Article Name
Top EHR Vendors - Epic, Cerner, MEDITECH, Allscripts, athenahealth
Description
Top EHR vendors. Learn about Allscripts, athenahealth, Epic, Cerner, NextGen, Practice Fusion, GE Healthcare, McKesson, Greenway Health, MEDITECH, and eClinicalWorks.
Author
HealthcareITSkills.com
https://healthcareitskills.com/wp-content/uploads/2017/12/cropped-healthit-green-logo-1.png