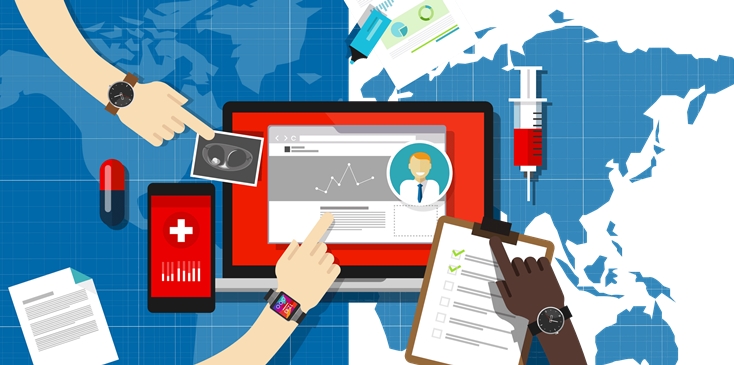 "All things are created twice; first mentally then physically. The key to creativity is to begin with the end in mind, with a vision and a blueprint of the desired result." This quote from Stephen Covey is a pretty good description of project management. When it comes to project management in healthcare, there are added dimensions that affect patient care and the clinicians who take care of all of us. For anyone who wants to succeed in healthcare IT- even those who aren't project managers, it's important to have a good grasp of the basics of this area.
Healthcare IT project management uses standard project management skills along with an understanding of clinical processes, an awareness of the high stakes of patient care, and knowledge of regulatory issues that affect healthcare projects.
Most of the official standards for project management are governed by the Project Management Institute (PMI® – www.pmi.org). They are the keepers of the most coveted certification, the Project Management Professional (PMP).  It is a very rigorous certification to achieve, and those with a 4 year college degree have an easier path to certification.  PMP also carries a lot of weight in other industries outside of IT. If you have PMP behind your name, it's pretty hard to stay unemployed. However, there are other PM certification options that I'll detail in a moment.
Basic Project Management Concepts
First, let's detail some of the basic concepts of project management. PMI® defines project management as the application of knowledge, skills, tools, and techniques to project activities to meet project requirements. This broad description covers project management that may be performed in construction, product development, market research, and many other industries in addition to technology. There are also training programs specifically for IT project management and Healthcare.  Additionally, there are several other philosophies in project management, some of the newer ones being Agile and Lean. For this initial discussion, I'll focus on the traditional method and then help you understand how you might incorporate it into your career.
The official "Bible" of Project Management is the Project Management Body of Knowledge, usually referred to as PMBOK. The current volume is the Fifth Edition. All certification tests use this as the official reference. There are also some study guides published by writers not employed by PMI® that are designed to help you pass Project Management tests. Note: The PMBOK is very dry reading by itself, so you will probably want to add some other good guides to your reading.
Do I need to start my career in Healthcare IT Project Management?
No, you don't need to start your healthcare IT career in project management. Before you get much further, you should try to determine if you would be happy as a project manager. You can start by asking yourself questions like these:
Are you a process and business minded person who thrives on interaction with team members, as opposed to a "heads-down" person who just wants to do your job and stay quiet?
Have you led a team (including volunteer efforts) to achieve a specific goal?
Do you have a college degree?
Do you enjoy civic engagement at any level?
Are you detail oriented, but not necessarily into the technical details?
Are you comfortable around people at much higher social or business positions than yourself?
Are you a decent public speaker?
If you answer Yes to most of these questions, then you might be happy as a project manager. If you answer No to most of those questions, you may not be happy as a full time project manager, but you would still benefit by gaining some project management skills. You may be a more heads-down person who likes to build some technical piece of work like a website or database, but unless you are building something that only you will use, you will need to have some level of interaction with people who have different roles, priorities, and needs than you.
The ability to succeed in just about any IT position depends on at least some level of project management skill. Countless projects have failed for a lack of understanding project management concepts.
With that, let's look at some project management certification options:
PMI® has a second level certification called Certified Associate in Project Management (CAPM).  To achieve the CAPM certification, you need to apply through pmi.org and meet these requirements in order to take the exam. And of course you need to pass the exam.
To apply for the CAPM, you need to have either:
A secondary degree (high school diploma or the global equivalent) AND at least 1,500 hours of project experience, OR
23 hours of project management education by the time you sit for the exam.
To apply for the PMP, you need to have either:
A secondary degree (high school diploma, associate's degree, or the global equivalent) with at least five years of project management experience, with 7,500 hours leading and directing projects and 35 hours of project management education;
OR
A four-year degree (bachelor's degree or the global equivalent) and at least three years of project management experience, with 4,500 hours leading and directing projects and 35 hours of project management education.
There is also another certification & training organization called CompTIA. They have a project management certification called Project+. In my review of the content, it seems legit, but when I search for what employers look for, I see far more interest in candidates with PMP or CAPM certification than for Project+.
Traditional Project Management defines five phases of a project, also referred to as process groups: Initiation, Planning, Execution, Monitoring and Controlling, Closing.

Project Management is broken down into 10 knowledge areas: Scope Management, Time Management, Integration Management, Cost Management, Quality Management, Human Resource Management, Communications Management, Risk Management, Procurement Management, Stakeholder Management.
No matter what job you are going for, you will be much further ahead if you do a bit of studying in these areas.
If Not a Project Manager, Maybe a Project Lead
If you are not ready to pursue the full-blown PMP designation, there are other alternatives. One of my favorite approaches is a Project Lead (PL) designation.  In this role, you assume the capacity of a temporary Project Manager "Lite" in order to facilitate the completion of a small to medium-sized project. Let's suppose you are a Desktop Technician. Your employer needs to upgrade all of its desktop PCs (let's go with 50 of them) from Windows 10 to Windows 11. There may not be a full-time Project Manager to manage all of the things that need to happen to pull this off. You are looking to advance your career, and you know several things about the PCs in your organization, such as:
About ¼ of the PCs are so old that they won't be able to be upgraded to the new version of Windows. They will need to be replaced.

Some users have heard complaints about Windows 11 and are concerned about training.

There are some older devices that print special labels that are connected to some PCs in the organization. You highly doubt that there are software drivers that will carry forward.

Management isn't sure if they really need to rush to spend the money on this upgrade, but you know that there will be future support issues with older Windows versions.
Congratulations! You have just become a Project Lead. Your first step is to create what is called a Project Charter document. For a Project Lead, it might be called a Mini Charter. This is the foundation that addresses all of the issues above, and then maps out a plan to get this thing done. You will create this charter to answer the Why, Who, Where, When, and How Much of the project.  From there, you will assume the role of moving the project forward, while you most likely continue your regular job functions. Once the project is completed, you may find yourself back to your normal routine.
If your employer doesn't currently have a Project Lead role, the creation of one Project Charter will likely change their minds and put you on a path to success.
The project charter document will define several important specifics of the project:
Project Scope: This is a detailed description of that the project is about. It defines the boundaries of the project and includes a section of things that are considered out of the scope of the project.
Project Milestones: These are the important events in the project that define and determine success.
Project Deliverables: This is the end result if the project, the finished product, so to speak.
Roles & Responsibilities: This is a definition of the key players on the project and what they are responsible for.
Project Budget: This is a breakdown of the costs of the project, and should be detailed by labor costs, capital expenses, contracting costs, and any other areas.
Once the charter document has been completed, it will be signed off by the leadership team, and revised as any changes come up. Changes should be logged in a section in the document, usually near the end.
Next Up: Learn about change control in Healthcare IT
The Information Technology department of many healthcare IT organizations may support a hundred or more applications: everything from the electronic badge system for clocking in, lab software, pharmacy software, all the way to critical monitoring software for patients ...
Read More
Summary
Article Name
Project Management In Healthcare | HealthcareITSkills.com
Description
Learn about project management in healthcare. Healthcare IT Project Management is a great choice for those who want to bring effective technology to patient care in hospitals and other locations.
Author
HealthcareITSkills.com
https://healthcareitskills.com/wp-content/uploads/2017/12/cropped-healthit-green-logo-1.png