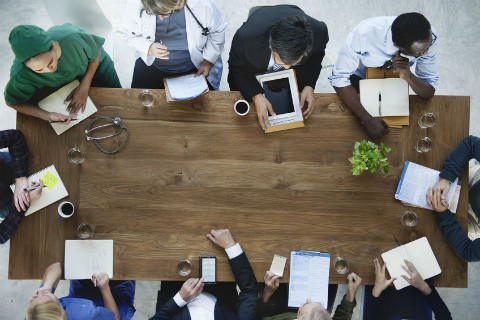 If you are looking to get into Healthcare IT, one of the first places to look is your local hospital. All but the very smallest hospitals have some form of IT department which interacts with almost every other part of the organization. Your exploration into Healthcare IT should start with a good understanding of a hospital IT department structure, and how various departments interact with IT. Let's start at the top of a hospital organization and work our way down to the staff who do the day-to-day work in a hospital IT department. There's a graphic at the bottom of the page.
Hospital Executive Structure
At the top of course is the organization's CEO. Directly under that person will be either be the hospital's Chief Operational Officer (COO), or the Chief Information Officer (CIO). Whether the CIO reports directly to the CEO or not, the CIO is the last word and authority over the hospital IT department.
The Chief Medical Information Officer (CMIO) straddles the line between the CEO and the CIO. This person is always a physician, and works closely with the VP of Nursing Operations. The CMIO represents the physicians of the organization in determining the long-term vision for IT at the hospital. They play a key role in all major IT decisions.
Depending on the size of the hospital, there may be a director position that has front-line managers reporting to them. I used to work for a 300 bed hospital that did not have this level, and now work for a 900 bed system that does have directors.
Hospital IT Departments
Next you have the individual departments where you start to see a real distinction in the work that gets done in the hospital IT department. The departments are more or less broken down by clinical functions.
Inpatient Clinical Applications
This department manages the clinical software and related processes that serve the onsite hospital departments such as medical floors and wards, ICU, operating rooms, labor & delivery, and usually the emergency department. Some of the software products supported by this group are:
Inpatient clinical documentation such as Epic ClinDoc or Meditech Patient Care Management
Inpatient Billing
Inpatient registration
Health Information Management (HIM)
Clinical orders and Inpatient lab results
Software to support pharmacy systems such as Omnicell and Pyxis
Patient location tracking systems
IV pumps and related software
Imaging software for Radiology
The IT manager of this area is usually has one of the largest teams, and the application analysts on this team typically has more licensed staff (RN, pharmacists) than some other areas. This team carries a heavy load because the hospital is a 24/7 operation. They frequently get after-hours calls. Quite a number of hospital nurses transition into IT by this route.
Ambulatory Clinical Applications
This manager is over the clinical analysts who support software and related processes for Outpatient and Specialty clinics, which may include urgent care locations. They support these kinds of software products:
Ambulatory electronic health records (EHR)
Scheduling software
Outpatient Billing
Many Specialties such as Cardiology, Eye Care, Behavioral Health, and Home Health
Patient portals (like MyChart and athenahealth)
Mobile apps used by patients and providers
Controlled access to medical records by community providers (Physician portals)
Electronic medication prescribing (Surescripts and others)
The size of the Ambulatory team depends largely on the number of Outpatient and Specialty clinics that the organization has. While the Ambulatory analysts get their share of after hours and weekend calls, they generally get to sleep a bit more than the Inpatient team.
Business Applications Team
The Business team supports those non-clinical IT software and services that are not always at the top of everyone's minds. These include:
Timekeeping programs (like Kronos)
Dietary software systems
Electronic faxing (like RightFax)
Supply inventory systems (like Par Excellence)
Payroll systems
Email and instant messaging systems
Oddball programs and applications that don't fit anywhere else (secure file transfer portals, utilities)
The Business Applications Team is a good place to start if you have some general IT experience, but little or no clinical knowledge.
Desktop Support and Help Desk
In most places I've worked, the PC support techs and the help desk analysts all report to the same manager. I've seen the Telecom group either under this manager or under the hospital facilities department.
Desktop support staff support the PCs, laptops, printers and other devices for a hospital. They are highly visible to the users in the clinical locations, and they go everywhere in an organization. They usually know every inch of a hospital. This staff usually doesn't have much clinical knowledge, and doesn't need to unless they are trying to move into a different role. They frequently get called after hours to deal with PC, printer and monitor issues.
The help desk team takes the phone calls and other requests from the users in distress and routes calls to all of the other teams in the hospital organization. They are the first line of support for IT. While they are typically not clinically minded, they do need a good grasp on the various applications in order to correctly assign issues to the right analysts. Most hospital IT departments struggle with mis-assigned tickets due to the difficulty in determining where trouble tickets need to be assigned.
Networking, Security, & Infrastructure
This is the highly technical team responsible for core systems, security, and system maintenance. Some of the functions they perform are:
System upgrades, large and small on just about every system
Network maintenance and upgrades
Firewalls
Security
Interface Analysts
Operating System maintenance (Linux, Windows, and others)
Server maintenance
Software deployments
These are your system administrators that usually focus on specific areas. For example, a hospital with Epic will have Epic Certified System Managers (ECSMs) who work on the core systems of Epic, but probably don't get into firewall administration.
These folks are almost always on call, and they regularly have to perform system maintenance at the least-busy times of the night, like 2:00 am Sunday mornings.
Project Management Office
Hospital IT project managers provide oversight and direction for specific projects that have start and end dates. Project managers work closely with staff managers, directors, analysts, and the CIO to ensure that projects are successful. Depending on the size of the organization, the PMs may have a project management director, or may report to the CIO.
PMs sometimes come from clinical areas. I've known a few who had previously been RNs. The main professional designation for project managers is the Project Management Professional (PMP). I've seen organizations that have few or no PMPs, and some that require the certification for project managers.
IT Trainers
The training department employs the IT staff who develop curriculum and train end users on a multitude of software systems. I see quite a number of RNs and other clinical staff who end up doing training, but that's not usually a requirement.
I've seen a few organizations who have the IT trainers under the Organizational Development department, but most are under IT. I think having IT trainers working in the IT department makes sense.
Hospital IT Org Chart
Finally, here is an image that lays out the hospital IT department structure. I can't present all the possible scenarios, so I'm just showing what a medium-sized hospital may look like.
Click on image for larger view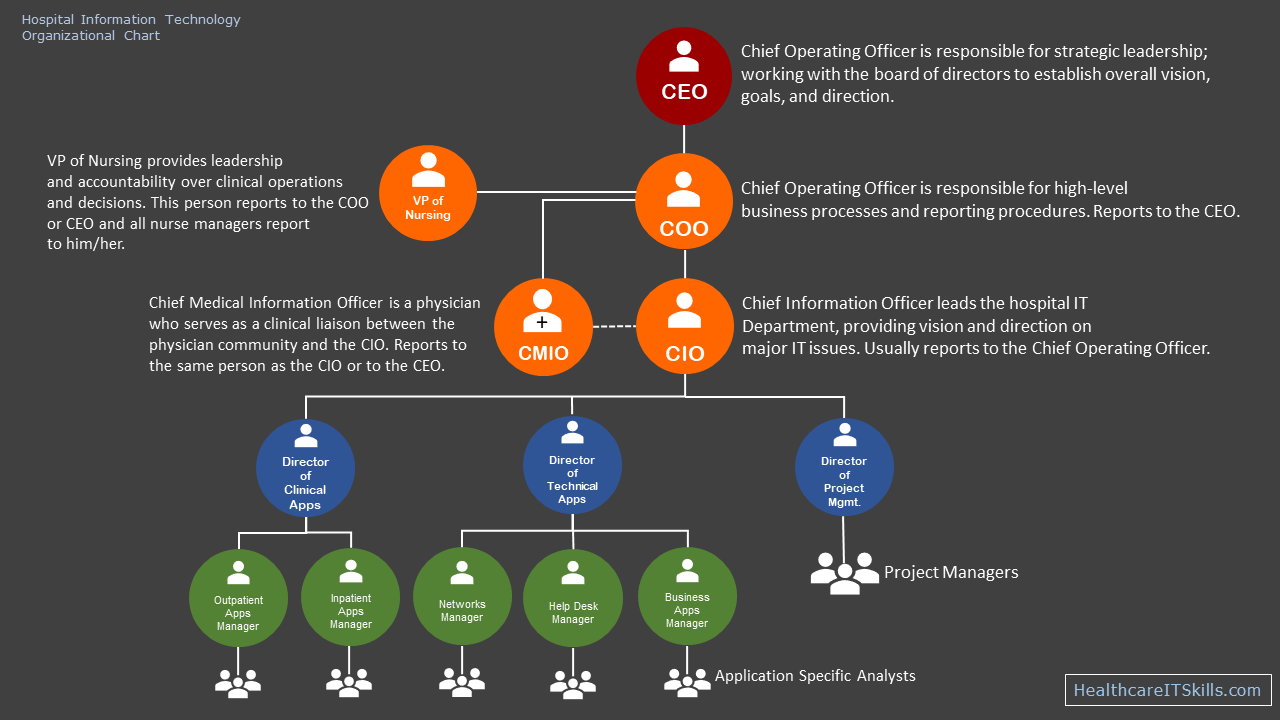 Next Up: Project Management in Healthcare IT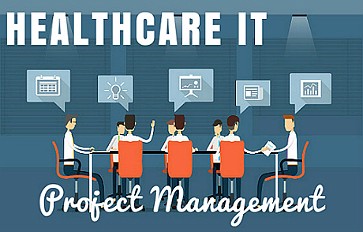 Summary
Article Name
Hospital IT Department Structure
Description
Hospital IT Department Structure. Learn about the structure of hospital IT departments: Inpatient Clinical, Ambulatory, Clinical Trainers, Business Apps
Author
HealthcareITSkills.com
https://healthcareitskills.com/wp-content/uploads/2017/12/cropped-healthit-green-logo-1.png